Supplying used food processing machinery since 1952, with over six warehouses of used food processing equipment IN STOCK!
ALARD EQUIPMENT CORP.
6483 Lake Avenue
Williamson, NY 14589-0057 U.S.A.
315-589-4511 (voice) 315-589-3871 (fax)
CORNELL 8 inch FOOD PUMP
Expanded Volute Model 8NHPP
with stainless steel VORTEX FEED TANK
and 10HP DRIVE...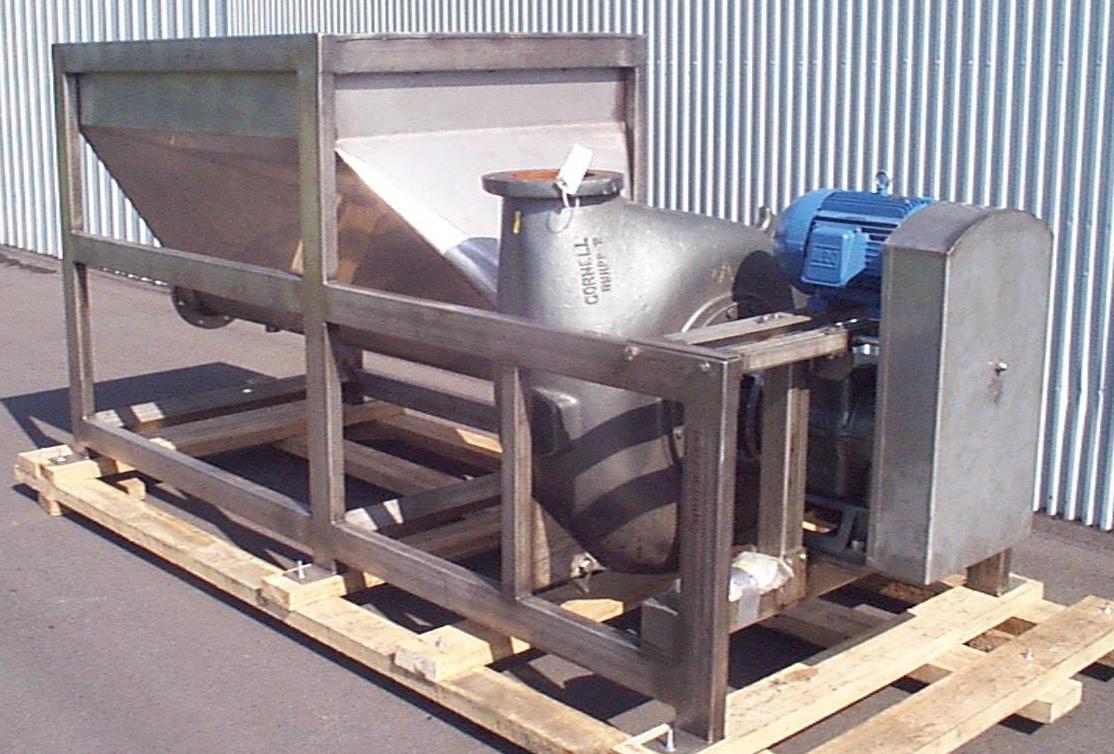 A
Cornell model 8NHPP-F16K 8" diameter inlet/outlet Hydro-Transport FOOD PUMP

complete with

a 10 HP

, 230/460 volt 3-phase fixed speed drive, and a 60 inch long by 44 inch wide by 41 inch deep stainless steel vortex

feed tank

. Variable speed drive available at an extra charge.
This 8NH series "PP series" pump

FEATURES:




Manufacturer rates for solids handling of food products, such as whole ears of corn, up to 5 inches diameter by 9 inches long (127mm diameter by 228.6mm long).


Manufacturer rated from 525 to 1,600 gallons per minute water flow capacity.


Ductile iron ASTM A536 food pump construction.


Oversized, offset volute, passed food through the center of the discharge without contacting the volute wall..


Single vane dynamically balanced impeller for handling whiole or processed foods.

The Cornell P and PP series pumps are designed and manufactured with the sole purpose of pumping food products. Ideal for agricultural applications such as fruit washing and packing as well as food manufacturing operations. Cornell Food Process pumps have the lowest product damage rates in the industry and are the pump of choice for food processors around the world.



Cornell hydro-transport pumps have been designed into just about any food application imaginable, including,




Potatoes
French Fries
Potato Chips
Live Fish
Cranberries
Carrots
Apples
Cherries
Peas
Broccoli
Crayfish
Shrimp

Lettuce
Green beans
Nuts
Peppers
Olives
Cucumbers
Raisins
Beans
Corn
Peaches
Beets
Oranges


NEW, with two-year manufacturer warranty.



CALL 315-589-4511

to confirm availability, and to discuss your particular food flume pump equipment needs.



Alard item reference #:Z2976


Unless otherwise stated, volume, speed, and/or capacity estimates given are those of the manufacturer(s) of the equipment. All offers are subject to prior sales and owner's confirmations. Unless otherwise specified, any prices shown do not include skidding, crating, or freight.




Search our website